About SRMKzilla
SRMKzilla is one of the active clubs and has been hosting several events/workshops/sessions at their campus internally. Previously the Club was handled by Rohith. As they graduated, the club responsibilities are now taken over by their juniors. It is, in fact, a smooth transitioning, with all the club responsibilities handed over to their successors. Most of the members are actively participating in the club events, from my knowledge It is one of the well-organized club in Tamilnadu.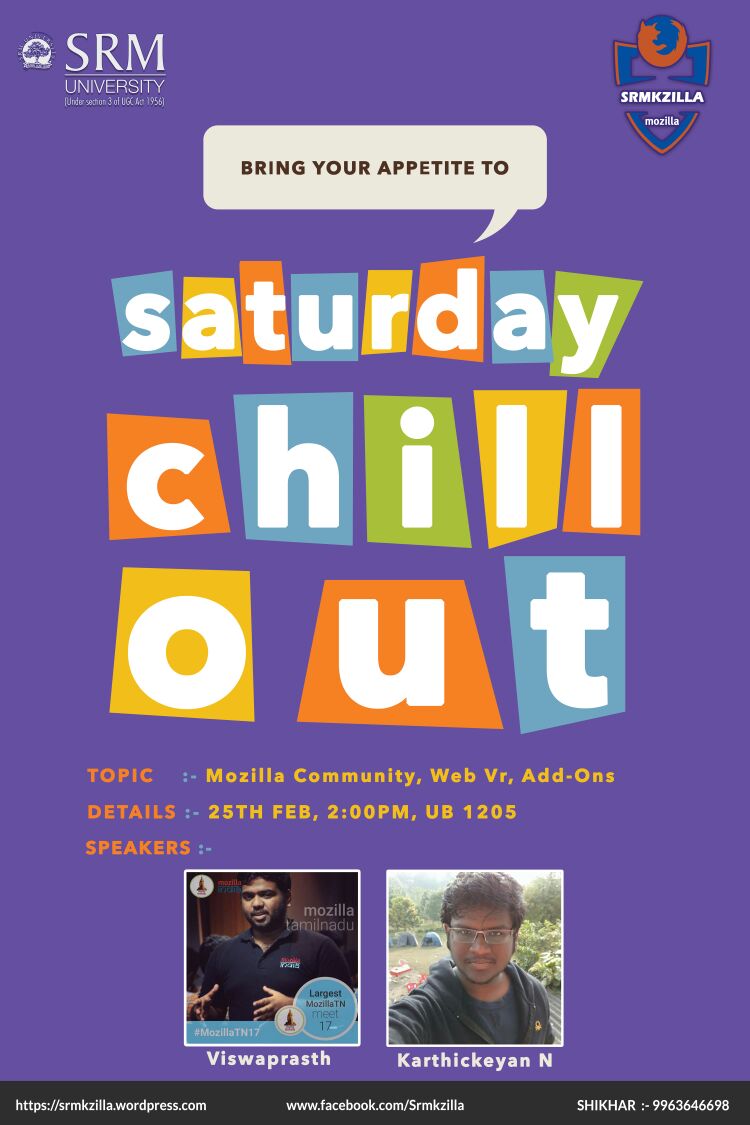 It was my first visit to the SRM University Mozilla Campus Club Event, though I had been previously mentoring the leads through online. Shikar Singh invited me and Viswaprasath for an informal meet and Onboarding Session for the New Club Members who had joined this year.
The session was expected to start at 2:00 PM. Due to a delay in travel, We started around 2:30 PM. Viswa started off by sharing about different pathways, students can contribute to Mozilla Community. Why one should contribute to Open source project and how it will help them in their career.
Some of the Suggested areas
MDN
Rust
WebVR
L10N
WebCompat
Add-ons
Why Should one contribute to community
Passion.
Gain exposure to Real world Problems.
Learn and Network with Amazing people.
After sharing his thoughts about open source communities for an hour, I started off with WebVR Session. I shared few demos using Aframe which attracted a lot of students and made them get involve so actively. Almost all were excited to try out Aframe framework. Many pinged me on telegram after the session with their queries and few showed me a demo they had made.
I feel this is one of the best short session I had. Some of the students were really interested to contribute, they followed back in Telegram and through Email. Some are interested in Analytics projects and many wanted to get started with it. With proper guidance, We can assure that this club will make great contribution to Mozilla in the future.
After the session, We had a personal meet with the Club Office Bearers and discussed regarding the big event they are planning in the month of April.